The layout is where your SpaceDraft story comes to life.
Manage your scenes and create new ones using the contents or layout in the master navigation panel.
Design your Layout to create a dynamic and interactive cover page for when you send your SpaceDraft.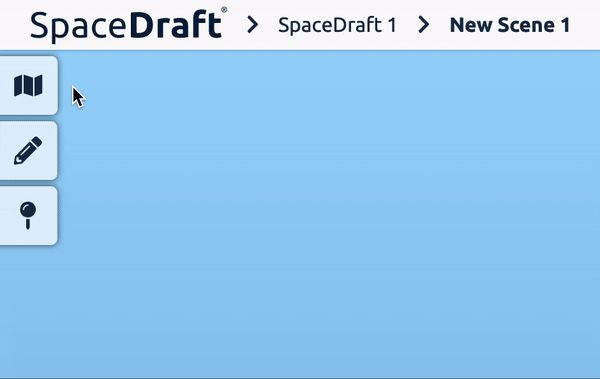 Functions:
Add new scene
Delete or duplicate scenes
Edit scene name
Toggle between scenes
Reorder scenes
Contents
By default, your master panel is in Contents view. The contents is a list view of the scenes in your project. Use the contents to quickly navigate  add new scenes and reorder and name scenes.
Layout
The layout is a visual navigation option. In the layout, you can upload and annotate on the background, edit scene thumbnails, and create nonlinear relationships between scenes.
Click the Layout tab then Edit Layout to design your cover page.
Edit Map
Here you can upload a background, draw and annotate the canvas to add style and provide more context around the scenes.
Connect scenes
Open the Master panel
Select Layout view
Click Edit Layout
Right click on a scene to expand the context menu
Choose 'Connect to another scene'
Edit scene thumbnail
Upload a thumbnail image or change the colour to make your layout more exciting.
You can resize and edit thumbnails by…
Navigate to the Layout (Master > Layout > Edit layout)
Right click on the scene you wish to edit to open the context menu
Select 'Edit scene thumbnail' or 'Resize scene thumbnail', and adjust accordingly.