Use the portal to insert a 'next button' that connects to any scene. You can have multiple portals throughout the script which can be useful if you need to connect more than one relevant scene. The portal also makes it easier for viewers to navigate through your SpaceDraft when you export it.

Inserting a portal
Click the portal button in the script menu
A dropdown menu listing the scenes in your project will open
Select the scene you wish to connect.
A button with the name of the select scene will appear inline with your keyboard cursor.

Change the name of the scene by navigating to the Master. Any scene name changes will populate to the inserted portal.
Navigating using the portal
Once you have inserted a portal, you can use it to navigate between scenes. the portal will highlight neon when you hover over it and a tooltip will display above (pictured below).
Click on the portal to be taken to that scene.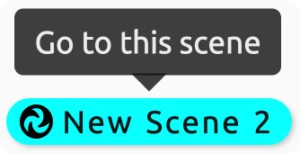 Deleting a portal
You can easily remove the link by using the backspace or delete key on your keyboard.