Have you ever arrived on location at 5am, in pitch dark, and not been exactly sure where you're meant to go?
One of the key challenges a locations department faces is communicating the nuances of site logistics to cast, crew and extras who haven't seen locations prior to the shoot day.
Working out where people or equipment need to be, and when they need to be there, usually means cross-referencing multiple documents and email chains.
However, location manager Brett Dowson and location scout and coordinator James Doherty are among the early evangelists of a new cloud-based multimedia software, SpaceDraft. They say it allows them to visually communicate plans – and changes – in real-time, all from within the one link.
The pair first used the tool on ABC drama Mystery Road: Origin, which shot in Kalgoorlie in regional WA. On that particular production, they faced challenges relaying logistics back to a city-based crew.
SpaceDraft helped them visually craft things like movement orders and mud maps that could be updated as required, and then shared with others via link or QR code. These animated maps, detailing where people, vehicles and equipment should be within space at any point on a timeline, meant they could walk crew through complex locations, and explain how to access sensitive sites.
"On Mystery Road, we shut down the highway. We were going to do a long tracking scene through an entire main strip of a small town and had to own certain areas," Dowson says.
"We were able to not just show people on a map where the barricading going to be, but where an actor was going to walk out of a door and where the low loader was going to be built.
"We were able to break down every moment of that process to make it work on shooting day. Just like a call sheet, but visually showing: This is what's happening at 7 am, this is what's happening at 8am."
Working in a visual medium like film/TV, visual logistics makes sense, Dowson says. SpaceDraft's virtual nature has streamlined processes and bolstered remote communication. If the 1st AD updates the schedule, it's a simple as drag and drop.
"I can be drawing on my iPad, moving things around and my coordinator is getting that information," he says.
"I can visually animate a security patrol and send it to one security company. Even if 15 different guards come in over the course of the job, they've all got the same information."
A Western Australia-based start-up, SpaceDraft is the brainchild of Lucy Cooke, a former runner, assistant to Alex Proyas and Vince Vaughn, and VFX coordinator.
She'd observed that production tended to block out complicated scenes and stunts using scale models – even using toy cars and figurines – which required everyone to be in the same room. She was sure there had to be a simpler way to create a common 'minds eye' understanding between people for any physical or virtual on-set scenario.
The 'ah ha' moment came working on Soldado: Sicario in New Mexico, when her radio died and she needed to immediately communicate a change of plan to the art department.
"I dreamt of there being a tool that could keep all the revisions and sides and movement orders all in one place with version control and real-time updates, so when something changes, everyone knows," she says.
Beyond locations, both Dowson and Doherty see scope for SpaceDraft to be used within and across departments: for things like scene and camera blocking, lighting mapping, concept design and storyboarding. SpaceDraft can include text, sound, graphics and images.
"One of the biggest questions I get from 1st ADs and line producers is: Where are we going to get all our information from? How are we going to communicate with each other? The traditional way is a collective Dropbox and email chains. We get a barrage of emails on big jobs," Dowson says.
"I could see SpaceDraft being a place where we could post all the current information that everybody needs."
Further, the program has also found a use case in game design, in terms of plotting out levels and storylines. One of its earliest adopters was Curtin University, who saw it as an accessible tool that could allow those who didn't know how to code to represent how their game might look. The university invested $50,000 to help evolve the product, which has in turn allowed Cooke to raise $2.7 million in seed funding.
Other schools now using the product include SAE, WA Screen Academy, University of Technology Sydney, RMIT and Monash University.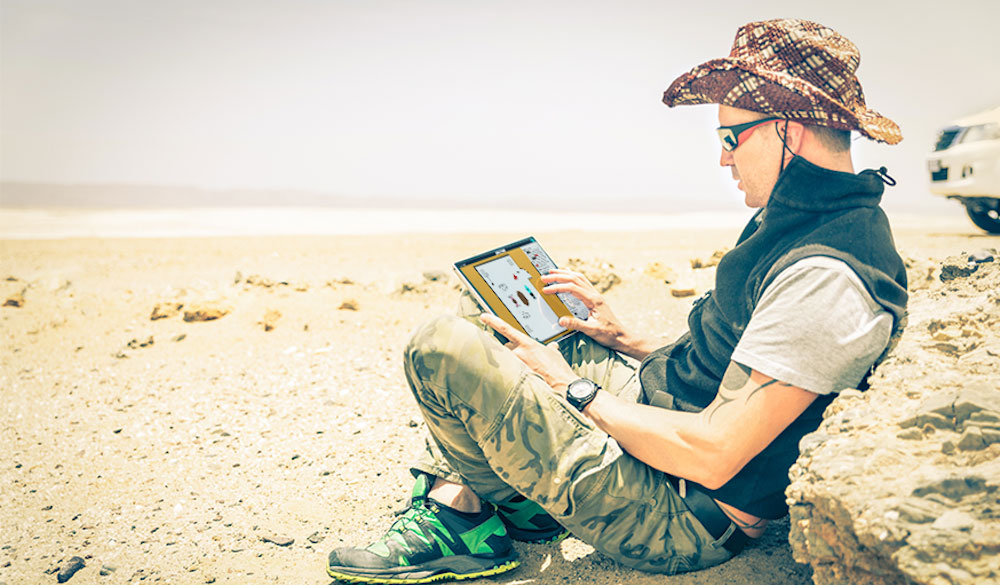 Cooke designed SpaceDraft as a place to keep all production documents in one place, visually represented, with the potential for less files, less software, less paper, and even reduced transport costs on recces.
"During pre-production in the past, film and TV practitioners transition from one program to the next, having to export multiple formats and links, which, with revised edits, begin to pile up," Cooke says.
"SpaceDraft gives the production team the ability to stay on top of shot lists, lighting plans and references throughout the filmmaking process without the hassle of multiple programs and formats."